Amyloid-β proteins form plaques in the brain that are a hallmark of Alzheimer's disease. Designed to clear these plaques, the antibody aducanumab is demonstrating early success after a year of testing in a Phase 1b clinical trial, according to interim results published today (August 31) in Nature [1]
Current drugs mask the effects of Alzheimer's by improving how neurotransmitters work, but none of them address the underlying causes of the disease. Any breakthrough drug would need to prevent and or reverse the underlying causes of the disease.
All current drugs are symptom reducing, but most of the drugs in Phase II & III are now beginning to target Amyloid and Tau protein build up mostly through disease modifying immunotherapy.
FDA Approved Alzheimer Drugs
The FDA has approved 5 drug for the treatment of Alzheimer's the last one was approved in 2014.
| | | | | |
| --- | --- | --- | --- | --- |
| Drug name | Brand name | Approved For | Type | FDA Approved |
| 1. donepezil | Aricept | All stages | Cholinesterase inhibitor | 1996 |
| 2. galantamine | Razadyne | Mild to moderate | Cholinesterase inhibitor | 2001 |
| 3. memantine | Namenda | Moderate to severe | NMDA (N-methyl-D-aspartate) receptor antagonist | 2003 |
| 4. rivastigmine | Exelon | All stages | Cholinesterase inhibitors | 2000 |
| 5. donepezil and memantine | Namzaric | Moderate to severe | NMDA receptor antagonist and Cholinesterase inhibitors | 2014 |
source: https://www.alz.org/research/science/alzheimers_disease_treatments.asp
The Alzheimer's Drug Pipeline
Below are two promising immunotherapy agents that are currently in phase III trials.
| | | | | |
| --- | --- | --- | --- | --- |
| Drug name | Phase | Type | Stage | Manufacturer |
| Aducanumab | 3 | Anti-Amyloid monoclonal antibody | Mild | Biogen |
| Crenezumab | 3 | Anti-Amyloid monoclonal antibody | Mild | Genentech |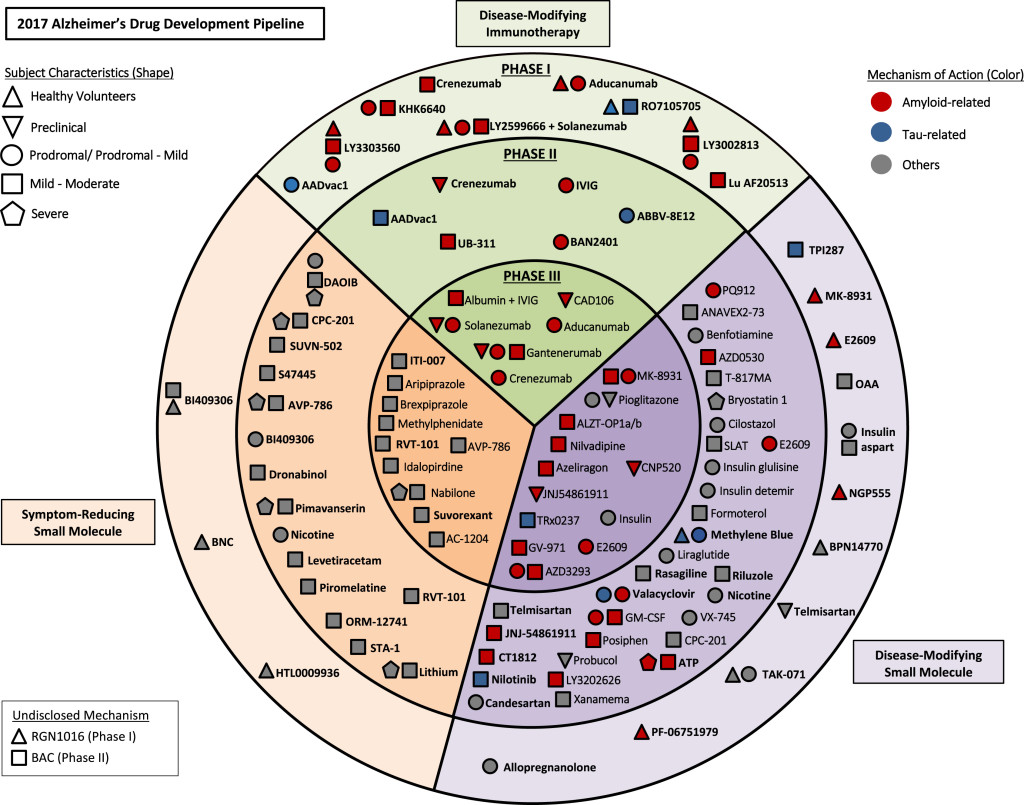 Aducanumab
Alzheimer's disease (AD) is characterized by deposition of amyloid-β (Aβ) plaques and neurofibrillary tangles in the brain, accompanied by synaptic dysfunction and neurodegeneration. Antibody-based immunotherapy against Aβ to trigger its clearance or mitigate its neurotoxicity has so far been unsuccessful. Here we report the generation of aducanumab, a human monoclonal antibody that selectively targets aggregated Aβ. In a transgenic mouse model of AD, aducanumab is shown to enter the brain, bind parenchymal Aβ, and reduce soluble and insoluble Aβ in a dose-dependent manner. In patients with prodromal or mild AD, one year of monthly intravenous infusions of aducanumab reduces brain Aβ in a dose- and time-dependent manner. This is accompanied by a slowing of clinical decline measured by Clinical Dementia Rating—Sum of Boxes and Mini Mental State Examination scores. The main safety and tolerability findings are amyloid-related imaging abnormalities. These results justify further development of aducanumab for the treatment of AD. Should the slowing of clinical decline be confirmed in ongoing phase 3 clinical trials, it would provide compelling support for the amyloid hypothesis. [3]
Conclusion
Phase II trials can take 3 years to complete, and phase III trials can take 7 years to complete. On average it can take a drug 10 years to go from Phase I trials to FDA approval. There are approximately 100 agents in clinical trials 28 of those in Phase III trials. All of the immunotherapy agents are for mild to moderate stages of Alzheimer's. [2]
The best case scenario for the next 10 years is an amyloid immunotherapy drug or BACE 1 inhibitor that will prevent Alzheimer's in healthy but genetically prone individuals. This will fall under prevention and will not address already those that already have the disease.
Reference
[1] Immunotherapy for Alzheimer's Disease Shows Promise https://www.the-scientist.com/?articles.view/articleNo/46927/title/Immunotherapy-for-Alzheimer-s-Disease-Shows-Promise/ [2] https://alzheimersnewstoday.com/2017/10/12/potential-alzheimers-treatments-moving-forward-breakthroughs-likely-two-scientists-say/ [3] The antibody aducanumab reduces Aβ plaques in Alzheimer's disease
https://www.nature.com/articles/nature19323
http://www.trci.alzdem.com/article/S2352-8737(17)30037-9/fulltext